Swansea City: Swans100 Archive to mark club's centenary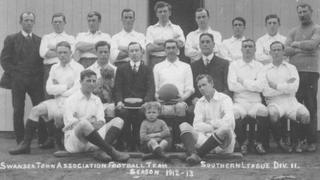 Later this year Swansea will celebrate the 100th anniversary of the start of professional football in the city.
By September it is hoped an online archive telling the story of the now Premier League club, players and fans will be fully up and running.
The Supporters Trust is working with Swansea University to create the site after securing Lottery funding.
They are looking for supporters to share their memories, photographs and memorabilia for the archive.
Project officer Phil Bethell said the aim of Swans100 was to create an on-line archive of supporters' experiences covering as much of the last century as possible.
It will also include information about important matches, key players and the role the club has played in the development of the city.
The site has already been launched and Mr Bethell said the challenge was to fill it with lively and informative contributions that will be available to researchers and supporters for many years to come.
With the Swans now in the Premiership and attracting sell-out crowds at the Liberty Stadium he did not think it would be a problem.
It was only nine years ago the Swans faced relegation from the Football League.
Match day experiences
"It's certainly a club that has had its ups and downs," said Mr Bethell.
"We want people of all ages, men and women, from across the social spectrum to become involved," he said.
"There is a survey for people to give their match day experiences - how they became supporters - their memories of their first game - all those sorts of things."
It is available online and hard copies will also be handed out at the Liberty, the stadium the club moved to six years after leaving the old Vetch Field ground.
"People have started to come up with quite a lot of colourful stuff," he added.
"A lot have mentioned the Vetch - both how horrible it was and how much fun it was."
Mr Bethell said they aimed to record some fans and also some players, as well as written testimonies.
'Exciting times'
A number of supporters' evenings may be organised with the Supporters Trust.
Trust spokesman Phil Sumbler said it was "extremely thrilling" to be working with the university on the project.
"Given these exciting times for the club on the pitch, the undertaking of this project will also ensure an exciting period off the pitch.
"The most inspiring part for me is the legacy that it will create for future generations to enjoy and that can only be a good thing."
The project will also generate leaflets and education packs to use football as a way of encourage children to not just learn about history but maths and literacy as well.
The trust is planning to release a number of books later in the year to mark the anniversary.
An exhibition will also be held at the Waterfront Museum later in 2012.