Pony death 'due to natural causes' in Carmarthenshire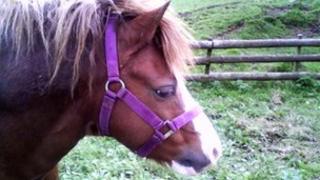 A horse whose owners offered a £3,0000 reward believing it had been mutilated died of natural causes, say police.
Seven-year-old Barney was found dead last Thursday evening at a small holding in Cifflig, Whitland.
His owners say they still believe he was attacked and his death may be linked to some sort of ritual due to cuts to his eyes and stomach.
But Dyfed-Powys Police said they were no longer treating the death as a criminal matter.
Barney's body was found by his owner Linda Vickerage when she went to feed him and another pony he shared the field with.
Her daughter Nicola Mann said his eyes appeared to have been cut to blind him and there was a long gash along his stomach.
"My mother is absolutely devastated. She has lost her little friend and animals are everything to her.
"Barney was a pet and he was so well loved. He was a rescue pony so had had a hard enough life anyway."
'Ritual' theory
Police are investigating an attack on another horse in Cornwall at the weekend.
One of the lines of inquiry police are following in Cornwall is that it was linked with a Satanic ritual.
Ms Mann said she suspected a similar motive behind Barney's death.
Her family offered the reward for information leading to the arrest and conviction of whoever was responsible.
Dyfed-Powys Police said officers were called to a field on 5 January.
"The horse had sustained several injuries including to the abdomen and the eyes," it said, adding that initial tests had proved inconclusive.
But the force now says it has concluded that the horse died from natural causes.
"There will be no criminal investigation into this matter," it added.