Pembrokeshire council to sell Haverfordwest Museum base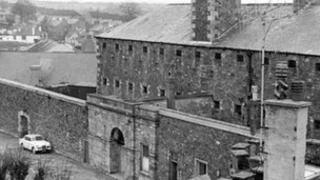 Councillors in Pembrokeshire have agreed to help Haverfordwest Museum relocate following a decision to sell its current base to a private developer.
The museum is housed in the former governor's house at Haverfordwest Castle, the former town prison.
Relocation costs will also be paid, subject to further discussion.
The aim is to raise money for the council, with the building being turned into a boutique hotel and restaurant.
The council had previously decided to sell Pembrokeshire Record Office, which is in the county's former prison, within the grounds of the castle.
On Monday, it decided to include in the sell-off the former prison governor's house, where the town museum is currently located.
The agreement was made provided "appropriate public access to the castle grounds was secured".
Councillor Rob Lewis, cabinet member for cultural services, said: "This decision paves the way for the development of a high quality boutique hotel with restaurant and gallery.
"This will be a much needed and prestigious development for the centre of our county town."
The council decided in July 2010 to sell the 19th Century former prison, which dates back to 1820.
The county council said selling the site would raise money and lead to efficiency savings.