Ben and Catherine Mullany's killer 'stabs prison inmate' - police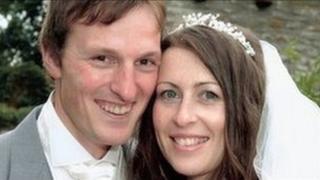 A man who was jailed for life for murdering newlyweds from south Wales in Antigua has stabbed a fellow prison inmate, police have said.
Kaniel Martin was one of two men convicted in July of the killing of Ben and Catherine Mullany from Pontardawe.
He was sentenced last month to three consecutive life sentences.
Senior sergeant William Holder, of the Royal Police Force of Antigua and Barbuda, said Martin used a "sharp implement" to stab his victim.
"There was an incident in prison on Friday. Investigations are going on," he said.
"At about 6.30am an inmate was stabbed by Kaniel Martin. It's a serious offence and the police will deal with it."
'Serious'
The 21-year-old victim was treated in hospital for "serious but not life threatening" injuries.
Snr Sgt Holder would not comment on the charges Martin, 24, could face.
Mr and Mrs Mullany, both 31, were shot in Antigua in July 2008, just two weeks after they had married.
Martin and Avie Howell burst into the couple's luxurious beachside hotel chalet during a dawn raid before shooting them both in the head.
The pair made off with a digital camera, mobile phone and a small quantity of cash.
Less than a fortnight later, the pair went on to kill local shopkeeper Woneta Anderson in almost identical circumstances.
Life sentence
After the killings, a small team of detectives headed by the Metropolitan Police's Homicide and Serious Crime Command travelled to Antigua with forensic specialists.
UK police officers' inquiries and subsequent scientific examinations led them to link the gun used to murder the Mullanys with the shooting of Mrs Anderson, and to provide evidence linking the suspects with the crime scenes.
In July, a jury found Martin and Howell guilty of murdering Mr and Mrs Mullany and Mrs Anderson.
Last month, the pair were spared the death penalty and instead sentenced to three consecutive life sentences.
Martin and Howell are due to stand trial this year for killing two other people.