Saundersfoot New Year's Day swim's 1,657 record turnout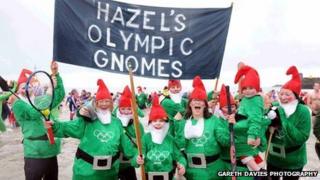 More than 1,600 have braved the cold sea in a record turnout for a Pembrokeshire New Year's Day swim.
The 28th year of the fancy dress event in Saundersfoot took an Olympic theme to celebrate the 2012 London games.
To start the swim, local triathlete Oliver Simon carried an "Olympic swim" torch which has been touring the county since starting its journey in London.
Meanwhile, in Gwynedd, swimmers turned out for a sponsored dip in Abersoch to raise money for the RNLI.
Saundersfoot saw 1,657 taking part in the dip, and only two people, Chris Williams and John Joseph, have taken part in all 28 years.
Saundersfoot Festivities Chairman Martyn Williams said: "Again we have exceeded expectations and have broken all records.
"Twenty-eight years on and this event is getting bigger and better with thousands of pounds being raised for charity."
Organiser Steve Williams said that despite low sea temperatures there were plenty of brave souls willing to take part.
"But you'll never catch me down there on 2 January," he joked.
"It's brilliant," said Steve. "It's really grown over the last 10 years and spread through the community".
"The swim has raised over £350,000 during its history".