Parc Howard and Carmarthenshire museums under threat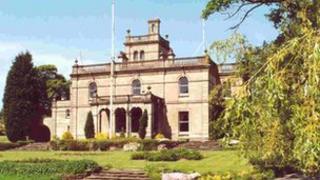 Two museums in Carmarthenshire could close as part of a bid to save £8.5m next year.
Councillors will next month decide the futures of Parc Howard museum in Llanelli and Carmarthenshire museum in Abergwili.
The move would save Carmarthenshire council about £150,000 and is part of a wider review of all services looking at where savings could be made.
Supporters of the museums said they were dismayed they were under threat.
Deputy council leader Kevin Madge would not rule out any decision.
"It's a very, very difficult budget we are proposing this year," he said. "We've got to look at what's essential and what's not.
"We will go through everything that is on the list and we may be able to save some services but not others.
"The public understands that. They are aware we are feeling the pinch like everyone else."
Parc Howard was built in 1885 and given to the town of Llanelli in 1912 by Sir Stafford and Lady Howard.
It houses a collection of Llanelli pottery, artwork and town history.
Carmarthenshire museum, based in a house dating back to 1290, displays mammoth bones, Stone Age axes and Roman gold, along with artwork, pottery as well as 19th and 20th Century offerings.
The closure of both sites would see six jobs lost.
"I've been in local government for 33 years and it's a rollercoaster at the moment," added Mr Madge. "It's very, very difficult.
"I think this is one of the most difficult budgets that councils across Wales are facing.
"We are not ruling anything in or ruling anything out at the moment."
'Handful'
Barbara Willis of the Parc Howard Association said her organisation and the Friends of Parc Howard Museum were both deeply concerned.
"The park was given to the people of Llanelli in 1912 and next year is our centenary - the timing could not be worse," she explained.
"It's part of community life and most of the artefacts have been given to the museum by local residents."
She said they had sent a "strongly worded" letter to the council and to local councillors, the town's AM and MP.
Museums Association chief executive Mark Taylor said museums were suffering, but he was surprised by the possible closures.
He said: "There are not that many museums under threat across the country.
"There are probably only a handful but it's more about cuts and closing, say, on a Monday and not renewing staff posts.
"Small museums get by by being run voluntarily."