Fears over Pembrokeshire hospitals injury unit closures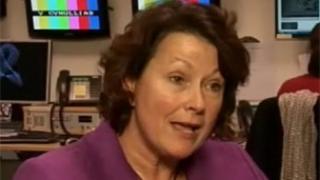 Politicians say they fear minor injury units at two Pembrokeshire hospitals set to temporarily close after Christmas will never reopen again.
Health services managers say nurses at Tenby and South Pembrokeshire hospitals are needed to keep the accident and emergency unit at Withybush running.
The units are due to close on 3 January on a temporary basis.
But local AM Angela Burns told BBC Wales she had "deep concerns" they would never reopen again.
She said she had sought assurances from the Hywel Dda Health Board that the transfer of staff from Tenby and Pembroke Dock was just a short-term measure.
The health board said the move was essential to keep the A&E unit at Withybush in Haverfordwest running 24 hours a day.
It said it was its intention to reopen the two minor injury units once staffing levels had improved.
Carmarthen West and South Pembrokeshire AM Mrs Burns said: "I'm not convinced that's going to happen.
"We've seen temporary closures before here in Pembrokeshire that have become permanent."
She said she understood the health boards were under considerable financial pressure and they faced difficult choices as they had to save money.
Mrs Burns said she had had a "robust" discussion with the health board over the move.
Travel concerns
"I'm seriously concerned about the forward planning and why they did not know they were going to have this shortfall."
Local MP Simon Hart said he was concerned people in south Pembrokeshire would now have to travel to Haverfordwest for treatment for minor injuries putting more pressure on the A&E unit.
"For the south of the county to be left without this cover is extremely worrying," he added.
"I also understand that ambulances are no longer allowed to ferry minor injuries to hospital so how will the elderly who don't drive or visitors here without their cars get to Withybush?"
'Fully committed'
In a statement the health board said the move was "essential" to keep Withybush fully open.
It said it would be talking to GPs about the provision of minor injury services during the period.
It said it had recruited three locum emergency medicine consultants to provide senior cover in the department and they would start work in January.
Dr Iain Robertson-Steel, the health board's director of clinical care, said: "We are fully committed to maintaining a full emergency and unscheduled care service at Withybush to ensure the future of the hospital.
"Despite ongoing staffing pressures, emergency medical performance continues to excel - for the past five months the service has exceeded the 95% four-hour waiting time target and ambulance handover targets have consistently improved.
"This has resulted in the department being one of the top performers in the UK."