Harry Patterson driveway death: Fund to support bereaved parents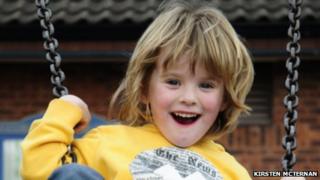 The father of a five-year-old boy killed in a driveway accident says more must be done to support parents who have lost children in tragedies.
Christian Patterson wants some of the proceeds of a fund set up in his son Harry's name to provide support for bereaved parents.
Harry was hit by the family car when it slipped down the steep driveway of their Swansea Valley home.
A coroner recorded an accidental death verdict on an "appalling" tragedy.
"We came home from the hospital with a pack of information and leaflets about dealing with bereavement," said Mr Patterson, of Alltwen.
"One of the booklets was about explaining death to a sibling. The leaflet talked about losing a sister.
"Harry's brother Dylan said, 'But I haven't got a sister, I've got a brother'. We found the whole experience of explaining our loss to our eight-year-old son very difficult.
"It wasn't immediately clear what help was available. We were grateful for the help we received through the bereavement charity Cruse but we also needed something more targeted to our needs.
"My wife Michelle and I were aware that we needed to deal with our grief on an individual basis partly because Michelle had witnessed the accident. I was in Scotland at the time and didn't see Harry until he was in the chapel of rest.
"If I'm in company I do feel much more like myself. If I'm alone I take it an hour at a time.
"Very dark thoughts can enter your mind. I know that life will never be the same again."
"Parental bereavement has always been a taboo, people don't know how to deal with it. I think it's very important to have somewhere to go and share experiences.
"I've been speaking to a friend about designing a blog website about bereavement that people could contribute to. All these plans are in their infancy, but it would also be useful to have some sort of database, where parents can find someone in their area who they could call or meet talk to and share experiences with."
A memorial fund in Harry's name was set up by friends of his parents, and is going through the process of gaining charitable status.
'Happy and mischievous'
In addition to supporting grieving families, the fund hopes to support local children who are experiencing problems and create a park for the community in Harry's name, an idea which came from his brother Dylan.
His father's abiding memories are of a boy who was "always smiling, laughing, dancing, happy and mischievous".
"He was always doing the Harry Patterson show and would appear from behind the lounge curtains. I've no doubt he would have followed in mine and Michelle's footsteps and gone into the theatre and the performing arts.
"If I had to find one word to describe him it would be joyous. There was something very special about him, he could put a smile on your face."
He said the support they have received from the local community has been overwhelming.
"It's immensely moving to think that so many people in the community support you and are thinking of you."
"My best friend [the actor] Kai Owen read a tribute to Harry I'd written at his funeral and it said: "The test of any community is how it reacts at times of tragedy and this community was not found wanting".
Mr Patterson advises any grieving parents to make sure they have someone to speak to such as Cruse Bereavement Care. He invited any in a similar situation to contact him via Facebook or Twitter.
"You can't really prepare for any death, but losing a child in such tragic circumstances is horrendous, more has to be done to support families.
"You can't just leave hospital with a load of information that doesn't relate to your life."
He hopes that Harry's Fund will keep his son memory alive and that when the park opens it will be a symbol of love and remembrance.
"The word I use is positivity. I want to feel that Harry Patterson is bringing this good thing that has come to pass."