Out of the Upper Afan Valley and into work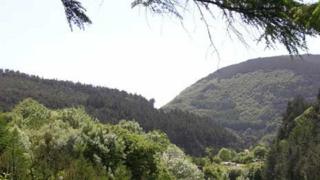 Nestled away in the picturesque upper Afan valley lies a handful of former mining villages where jobs are few and long-term sickness is high.
Ten years ago one of those villages, Croeserw, came out on top in the 2001 Census as the UK's sickest place to live.
But efforts are being made to get many of those residents active again and into work as well as those living in Abergwynfi, Blaengwynfi, Cymmer and Glyncorrwg.
That is coming through the Welsh government's Communities First programme and NSA Works, an employment support service helping people improve their skills.
Courses include introduction to construction, DIY skills for women, healthy eating and fitness.
Julie Young, an employment support worker with NSA and from Croeserw, was unemployed for five years until September.
"It's very hard, there's a lot of apathy in the valley," she said.
"People are afraid they are going to be signed off their benefits and this is why they don't want to attend courses.
"We do start courses to help build their confidence and get to know them but you've either got these people or you haven't."
'Depressing'
Sarah Esposito, 31, has been unemployed since February after being in work for 15 years.
She says there are two types of people in the Afan Valley - the ones who want to get work and the ones who are in a "rut".
"It's so depressing," she said.
"It's so easy to stay in your pyjamas and watch Jeremy Kyle. There's no pride left. They've got nothing to aspire to.
"We have high unemployment, especially in Glycorrwg.
"People like myself are in the wrong place at the wrong time but are trying our hardest to get back into work."
Miss Esposito, who is embarking on a foundation course and volunteering while she tries to find work, said people have to change their ways of thinking if they are to get themselves going.
"It's little things getting people out of the rut to get them to get up in the morning and have some pride in themselves," she added.
Andrea Croxson, Communities First coordinator, said the schemes that have been put in place are helping.
'Challenge'
She highlighted 16-25-year-olds targeted though the not in education, employment and training (Neet) course where one has gone on to work on a wind farm in Dubai and others on oil rigs.
"They are coming on the courses and really want to be in jobs," she said.
"The challenge we have is there are very few local jobs and we have difficulty in getting people to and from work.
"We have also always had problems in this area with no childcare provision."
But she said between November 2009 and July this year, 92 people gained work.
John Evans, manager at NSA, has run the flagship Strides programme which is part of European social funding money.
It holds workshops which also includes heath, beauty and construction.
"The workshops are there for them to enjoy," he said. "We've provided so many different kinds of training.
"A lot of our participants are economically inactive.
"We engage them through volunteering - and that includes people who have been out of work for up to 15 years.
"We will work with anybody."
BBC Wales across online, TV and radio is looking at the economy in a Crunch Christmas series this week. On Wednesday, unemployment will be examined and retail will be the focus of Thursday's coverage.