Goodwick railway station near Fishguard to reopen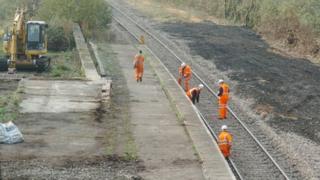 Rail campaigners say the reopening of a station near Fishguard will make train services more attractive for many people in north Pembrokeshire.
Trains are to start calling at Goodwick station for the first time in almost 50 years in March.
A passenger group says the existing Fishguard station at the ferry terminal is too far outside the town and parking charges are prohibitively expensive.
Around £325,000 is being spent to reopen the old station closer to town.
It follows an increase in the number of trains calling at Fishguard from two to seven.
Hatti Woakes, secretary of the North Pembrokeshire Transport Forum, said Goodwick station was more convenient for many people.
"The problem with the [existing] station is it's quite far out - at least 10 minutes walk from the town - and most people are taken there by car.
Funding constraints
"There is a car park which is expensive, it's £7 a day. It's a bit of a disincentive and it's putting some people off - especially people who live outside of Fishguard.
"Goodwick is more convenient for many people. It's going to be very simple because of the funding constraints but people will be able to park for free and the bus service will stop right outside the gates."
The old derelict timber station building has been cleared and Network Rail has lowered and re-aligned the track closer to the existing platform.
Services on the main south Wales line to Fishguard were enhanced in September.
The Welsh government is spending £1.4m funding five extra trains running Monday to Saturday.
It follows a long running campaign for better services.
Pembrokeshire council deputy leader Jamie Adams said improvements to rail services west of Swansea were not only a priority for Pembrokeshire but for the south west region as a whole.
"The re-opening of the station will be a positive step for the communities of Fishguard and Goodwick and help attract passengers onto the new enhanced rail services," he said.
Pembrokeshire council owns the station site while the work to reopen it is being funded through the Welsh government's regional transport plan.