Swansea copper heritage boat Black Prince's maiden voyage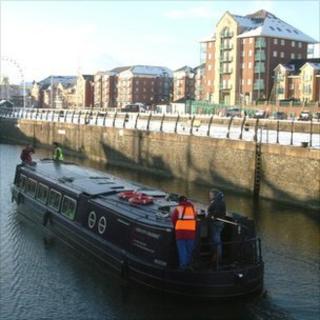 A community boat running river trips through Swansea's industrial past has made its maiden voyage.
The Black Prince takes passengers from Swansea marina to the Liberty Stadium and back on Sunday.
Charles White, chair of Swansea Community Boat Trust, said he was delighted it had been given the green light a year after buying the vessel.
The tour will pass the site of the Hafod copperworks, which was promised a £540,000 heritage grant on Friday.
Time travel
The charitable trust raised funds including corporate sponsorship and grants to buy the Black Prince from a company which ran canal cruises in Leeds.
Up to £180,000 has been spent on the project so far, including £80,000 for the boat.
It will take school pupils, community groups and tourists from Swansea marina to the Morfa Basqule Bridge and back in a two-hour round trip.
Tours are open for all passengers from 11:00 - 13:00 GMT every Saturday and Sunday.
The two-mile stretch of the River Tawe passes through the remains of "Copperopolis," where 90% of the world's copper in the 19th Century was processed.
The charity promises a "time travel" experience for passengers, with plans to install computers showing animated recreations of the historic landscapes on the route.
Mr White said: "I'm delighted to be able to report that both the boat itself and the safety procedures that we have in place have been given the green light by the Maritime and Coastguard Agency (MCA).
"The last few months have been a busy time for the Trust with the appointment of boat manager Wayne Morgan and boatmaster Chrissie Joyce.
"The pair have put in an incredible amount of work since their appointment.
"The MCA have awarded both with extensions to their boatmaster licences that now permit them to carry up to fifty passengers along the River Tawe."
Support for the project has come from the Coalfields Regeneration Trust, the European Development Fund through the Welsh Government, the Environment Agency, and Swansea council.
On Friday, the Welsh government announced a grant of some £540,000 to open the Hafod copperworks site to the public.
The money from Welsh heritage body Cadw will be used to restore some of its features and create tourist trails.
Swansea council said it still hoped to attract commercial development to parts of the site despite a disappointing response since it was put on the market last year.