Car driven on football pitch during match in Swansea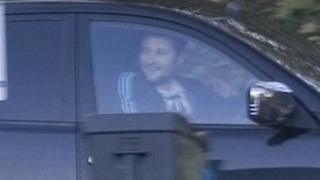 Police are trying to identify a man who drove a car onto a football pitch while a match was taking place.
The game between Mumbles Rangers and Kingsbridge Colts was being played at Underhill Park in Mumbles, Swansea, at lunchtime on Saturday 12 November.
The black Mitsibishi, which had no number plates, did three "donuts" in the centre circle before driving off.
Anyone with information are asked to call South Wales Police on 101 or Crimestoppers on 0800 555 111.
"I don't know if he was mad or drunk but somebody could have been seriously injured or killed," said Mumbles Rangers chairman Chris Parkin.
'Laughing'
"There were 22 players on the pitch and supporters around the edge and no way of knowing that the car would not overturn.
"The players and supporters were astounded. They stopped what they were doing and just looked at what was happening.
"The guy himself driving and his passenger were just laughing.
"He drove the car around the semi-circle several times digging up the ground as it spun round with the tyres."
He said that the car was driven at speeds of up to 30mph and went on to leave the way it had entered.
Groundsmen were later able to repair the pitch enough for the match to recommence.
Sgt Chris Mackay of Swansea police said the black Mitsubishi L200 was driven onto the pitch and "did three donuts in the centre circle before being driven along the pitch and out of sight."
He added: "The incident took place while the match was in progress which obviously put the players and spectators in danger.
"A spectator took photographs using his mobile phone and we are appealing to anyone who recognises the driver to contact the police."