Free Christmas holiday bus use for Swansea school children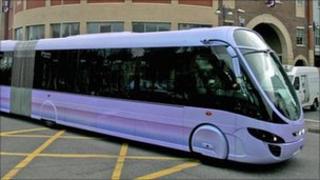 Swansea council is claiming to be the first authority in Wales to offer free bus use to school children under the age of 16.
The scheme will allow the city's 27,000 pupils to use any bus route in the city to go anywhere they want.
The offer will run through the Christmas holiday from 22 December to 8 January.
Council leader Chris Holley said if successful, the £35,000 scheme could be run again in the future.
"We've got to help families in this current climate," he said.
"This is to help families with a lot of children who want to come into the city centre to use facilities like the shops, leisure centre and Winter Wonderland.
"We are saying to all school children in Swansea under the age of 16 that they can have free bus transport if they get a pass from school.
"They can operate their passes through the holiday period."
Mr Holley, who is also Welsh Local Government Association (WLGA) spokesman on Europe, said he came up with the idea when travelling around the continent.
The scheme was passed through Swansea council's cabinet and will be funded by the authority's concessionary fund.
"We think it's the first scheme of its type in Wales and maybe the UK," he added.
"We've spoken to some of the city centre businesses and the manager of the Quadrant centre, and they are absolutely over the moon about it.
"I've been to a number of countries in Europe and I've seen a number of schemes.
"We will do it for the Christmas holidays and see how it goes. We will then re-evaluate it and see if we can do it any more."