Two arrested over Swansea Fforestfach tyre fire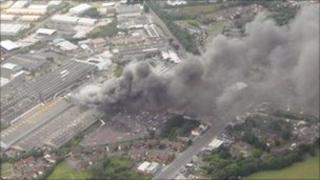 Two people have been arrested in connection with a tyre fire that burned for three weeks on an industrial estate in Swansea during the summer.
A man aged 64 and a woman, 58, were arrested in a joint operation by police and officers from Environment Agency Wales on Wednesday.
It is alleged around 5,000 tonnes of tyre waste was illegally dumped at a warehouse in Fforestfach.
The pair, from Swansea, have been released on police bail.
The fire, which started in the former Mettoy plant on 16 June, cost an estimated £1.5m to tackle.
Firefighters had to remove the walls of the building to access the blaze and the unit was eventually demolished.
The burning material had to be removed using specialist equipment and immersed in large water-filled containers.
Smoke from the blaze closed roads on the estate which hit a number of businesses.