Llandeilo tourist village plan targets Chinese market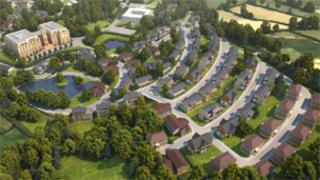 Chinese visitors are at the heart of plans for a luxury £50m tourist village in rural south west Wales.
China-based Maxhard Ltd wants to build a 100-bed hotel and 80 holiday homes with a swimming pool on a 22-acre site (9 hectares) in Carmarthenshire.
The development, near Llandeilo, would be marketed to a "select international clientele".
Some 109,000 Chinese visited the UK last year but London was by far the most popular destination.
Scotland was also more popular than Wales and tourism leaders and ministers want to tap into some of the £184m spent by Chinese visitors - a 40% increase in five years.
Gary Davies, director of South West Wales Tourism Partnership, said he had not heard about the tourist village plan but appreciated the opportunities offered by China, which has a population of 1.3bn.
"The challenge is, of course, the Chinese market which is absolutely huge, so your marketing budget has to be big to make an impact over there," he said.
"The Welsh government and Visit Wales puts most of its marketing activities [for China] through Visit Britain because you have to work with others in order to make an impact out there because it's just huge.
"It would be a very interesting development and I look forward to hearing a little bit more about it."
The Welsh government has been keen to forge links with China, resulting in First Minister Carwyn Jones making his first official visit last month along with representatives from Welsh industry and education.
An agreement was signed with the Chinese municipality of Chongqing and a reception was held to promote Wales as a business location.
"The UK and China have agreed to double the amount they trade by $100bn by 2015, and I am here to make sure Wales benefits from this," he said at the time.
"Our aim as a government is to continue raising the profile of Wales in China."
The National Botanic Garden of Wales, at nearby Llanarthne, was also in China showcasing what it had to offer at an international garden event.
The Welsh government is also looking to establish a direct air route from China to Wales to improve business opportunities.
China was Wales' ninth largest trading partner in 2009, accounting for £162m in Welsh exports. In 2010, this figure grew by 42%, to £230m.
The Llandeilo plan, which would also feature shops and a car park, would provide up to 70 full-time jobs, it is claimed.
Maxhard, which has offices in London and China, said it would be a "luxurious development for a select international clientele looking to enjoy a tranquil Welsh retreat".
'Urban scheme'
"The development proposed will deliver a new, upmarket tourism concept which, as part of a large tourism enterprise will attract an international clientele, mainly from China," the firm said.
It would be on the doorstep of Pantglas Hall, where a separate resort exists which features timeshare log cabins, a restaurant and leisure facilities.
Managers of the neighbouring Pantglas Owners' Club say they have concerns about the scale of the tourist village proposals which have been submitted to Carmarthenshire council.
"Ours is very low key and low density. What's proposed is a very large urban scheme in a rural country site," said John Butcher, director of MBH3 Ltd which runs the resort.
Meanwhile, councillor Clive Scourfield, Carmarthenshire council member with responsibility for regeneration, gave the plans a caution welcome saying the investment and the jobs were needed in the area although the plans affected a rural area.