Port Talbot junior football games allowed to resume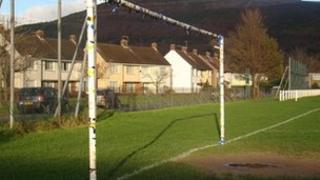 Junior football games in Port Talbot can resume on Saturday after a two week suspension due to trouble at matches.
The decision was taken at an emergency meeting of the Port Talbot and District League.
No matches have been played in the last two weekends after flare-ups in the under-12, 14 and 16 age groups.
The league, which has been contacted for a response, has been criticised for "punishing" all teams instead of just those involved.
But Port Talbot and District referees' society had backed the suspension.
BBC Wales understands violence has involved assaults on players and referees by other players and spectators.
And an incident has also taken place in mini-football, played by under 10s.
Phil Robinson, secretary of Afan Lido FC admitted there were problems in the league but felt there was no need for all fixtures to be suspended.
"We felt the league was wrong to punish the clubs and their teams for something that they were not involved in," he said in a message to the league.
"The feeling was that the league should have dealt with the offending teams only but still continued with the special meeting to show their concerns, as to what had happened or is happening."
'Totally unacceptable'
Paul Fisher, secretary of the Port Talbot and District referees' society defended the move.
He said: "We have raised concerns regarding the nature of incidents which we have witnessed this season in the league and fully support their efforts to eradicate this sort of behaviour.
"It's sad that it's come to this but if there's anything positive that can come out of it is those who have been involved in this sort of behaviour would have reflected and realised that it was totally unacceptable."
The South Wales Football Association (SWFA), which has jurisdiction over the Port Talbot and District League, is already concerned about a rise in bad behaviour of players and spectators in parks junior and senior football this season.
This month alone punishments of between four matches and year-long bans have been handed out by the SWFA across all its leagues.
Those are for misconduct charges, which are more serious than sendings-off.
Elsewhere, police in Swansea are investigating an alleged assault on a player during a match.