Swansea fan Kieran, eight, meets Giggs and Ferguson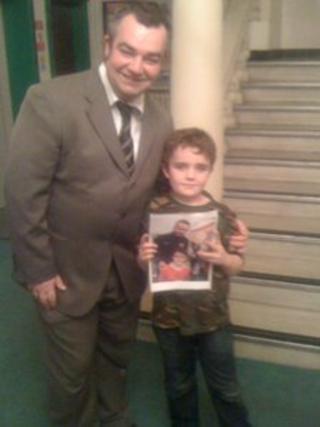 The 1-0 defeat against Manchester United might not have pleased most Swansea fans.
But despite his team's defeat, eight-year-old Kieran O'Shea was celebrating after meeting some of his Manchester United idols.
Kieran and his father Rob went to the Marriott Hotel on Saturday to try and get a glimpse of the team, and met Sir Alex and Ryan Giggs.
Asked if he was scared of the no-nonsense manager, Kieran replied: "No."
The pair had only been waiting a few minutes when Sir Alex arrived.
'Thrilled to bits'
His father Rob said: "I was expecting him to be a bit grumpy, the fact that we had asked him for the autograph, but he was happy to oblige."
Kieran managed to get the autographs of most of his favourite Utd players, and the manager also signed his shirt.
Mr O'Shea said Kieran was "thrilled to bits".
Sir Alex also visited Swansea University on Saturday to see its collection of more than 3,000 books about the American Civil War.
Jon Roper, professor of American Studies, invited the manager after discovering he is interested in American history.
Sir Alex was particularly interested in a book that recounts the story of two brothers from Scotland who fought on opposing sides during the Civil War.
Prof Roper said: "Sir Alex is extremely interested and knowledgeable about the war and the personalities involved in it, including President Abraham Lincoln and generals such as Robert E. Lee and Ulysses S. Grant.
He added: "It was our privilege to have him visit this major research archive in American studies".