Tory Swansea councillor Paxton Hood-Williams suspended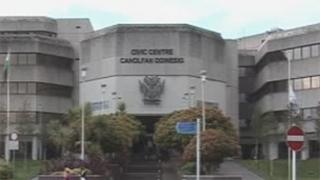 Story updated 11 April 2016: Following an investigation, which concluded in June 2012, the ombudsman found there was no evidence Mr Hood-Williams, Mr Holley or Mr Hague had breached the code of conduct.
A senior Swansea councillor who was referred to police by the Public Service Ombudsman for Wales has been suspended by the Welsh Conservatives.
Paxton Hood-Williams is one of a number of people referred to South Wales Police, which is considering whether to launch a criminal investigation.
Meanwhile, the ombudsman's investigation has been halted, pending police inquiries.
All those involved are understood to deny any wrongdoing.
The claims are thought to centre on whether environmental improvements were offered in return for support.
The claims, which also involve Swansea council leader Chris Holley and his deputy John Hague, are believed to centre around whether environmental improvements were offered in certain Tory wards in return for support for the ruling administration group.
'Serious allegations'
A Welsh Conservatives spokesman said: "We understand that the inquiry is focusing on the conduct of three councillors, namely the Swansea Liberal Democrat council leader Councillor Chris Holley, his deputy Councillor John Hague and Councillor Paxton Hood-Williams.
"These are serious allegations and the Welsh Conservative Party has suspended councillor Hood-Williams from the party until such time as the ombudsman has made a ruling or come to a final decision."
The Welsh Liberal Democrats said no action had been taken by them against cllr Holley as a result of the claims.
Councillor Hague sits as an independent.
The ombudsman is believed to have interviewed several key figures at Swansea council in relation to his inquiries, both elected members and officials.
But a spokesperson for the ombudsman said in order to "avoid the potential for prejudicing police inquiries," its active investigation has been suspended pending the completion of the police investigation.
South Wales Police confirmed it received correspondence from the ombudsman earlier this month and its economic crime unit is considering whether or not a criminal investigation should be undertaken.