Llanelli town centre street drinking clamp down bid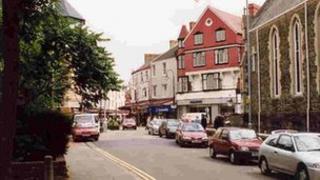 Street drinkers in Llanelli town centre could be arrested if they refuse to hand over alcohol to the police.
An application has been submitted to the county council to introduce Carmarthenshire's first designated public place order (DPPO).
Glanymor and Tyisha Safer Communities Action Group is behind the move which follows complaints of drink-related anti-social behaviour.
The police-backed application is out to public consultation until 16 December.
DPPOs give police the power to stop someone drinking alcohol in a public place or confiscate it if the person is judged to be behaving, or likely to behave, anti-socially.
Those who refuse to comply could be issued with a fixed penalty notice or arrested and fined up to £500.
The proposed DPPO area, which covers the Tyisha and Elli wards, includes Station Road and the surrounding area, as well as People's Park.
'Prisoners in our community'
Vanessa Marsh, chair of the Glanymor and Tyisha Safer Communities Action Group, said: "It's something we've been hoping to achieve for a long time.
"We've had so many concerns raised by different people.
"You see people drinking. We feel we are prisoners in our own community.
"There are places where you can have a drink, but not gather on the street in groups.
"We are trying to make the place safer and reduce the fear of crime. This will be one of the most positive things that could happen.
'Strong correlation'
"I know it means extra work for the police, but they are up for it."
Insp Eric Evans of Dyfed-Powys Police said: "I'm happy to support this DPPO in the interests of making Llanelli a more welcoming place for residents and visitors.
"This is a new move for us and we will monitor its effectiveness in the coming months.
"But there is a strong correlation between violence and alcohol, and anything which reduces instances of anti-social behaviour and violent crime is something to be welcomed."
The council is consulting with the town council, licence holders and premises users in the proposed area but everyone is welcome to comment.
These will then be taken into consideration before any approval by the local authority.