Busby Babe Kenny Morgans on Swansea v Manchester Utd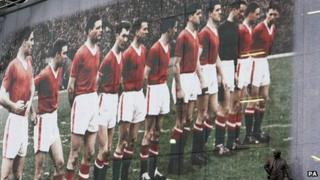 A Manchester United player who survived the 1958 Munich air disaster will have divided loyalties when they meet his home town side, Swansea City.
Kenny Morgans was 18 when the plane taking him and other "Busby Babes" home from a European tie crashed.
It claimed the lives of eight team-mates as well as 15 other passengers.
Mr Morgans, 72, who later played for Swansea, says he does not mind who wins when United make their first visit to the Liberty Stadium on Saturday.
This is Swansea's first season in the Premiership and the teams last met in the old First Division 28 years ago.
Mr Morgans said: "Swansea are playing some fabulous football. United play fabulous football.
"It's going to be a great game and I really don't care who wins."
Mr Morgans still makes regular visits from Swansea to Manchester, having signed for United straight from school at 15.
Plane sliding
"They are a family club and they look after the old players and every time I go up there it's like going home," he said.
He broke into the United team shortly before the Munich disaster.
"Three times we tried to take off," he said, recounting the tragedy.
"I can remember it was snowing and freezing.
"Going down the runway the plane was sliding and I can remember us going in to the fence at the end of the runway and that's all I remember.
"It happened on a Thursday. I woke up on the Sunday in hospital. There was Bobby Charlton, Dennis Viollet and Ray Wood in the same room.
"I thought the other boys were in different rooms and then the professor of the hospital came in late on and told me who had died and I could not believe it."
He believes if the crash had not happened then the team managed by Sir Matt Busby would have gone on to dominate football for a decade.
"We were all young. I was the baby of the side at 18," he said.
"We would have been a fantastic side."
When pushed, Mr Morgans predicted a 2-0 win for United on Saturday, believing manager Sir Alex Ferguson will inspire the team to victory.
"I was under Busby and he was the best manager in the world at that time. The boss now, Alex, is to me the best."