Swansea's Dylan Thomas Centre workers to be redeployed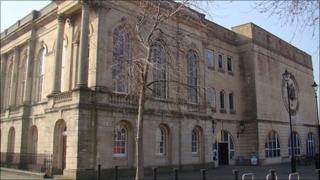 More than 20 staff at Swansea's Dylan Thomas Centre have been told they will be redeployed if big changes go ahead.
The city council says it is close to finalising a deal to lease the building to the University of Wales.
Most of the centre would become business space for creative companies although the exhibition dedicated to the late writer would remain.
The council said 23 staff would be offered the chance to apply for other posts and it aimed to avoid job losses.
A small number would remain at the centre to run the exhibition.
Staff were told of the likely changes at a meeting this week.
A report is expected to go to the council's cabinet next month and if approved the university will take over the running of the building early next year.
The council said some existing services would be scaled back as staff were redeployed.
The Dylan Thomas Exhibition would stay on site, the centre would retain its name and the building would become home to the University of Wales Dylan Thomas Prize - the world's highest cash prize for young writers.
Writers and artists
Plans would also see an educational programme linked to the prize and aimed at promoting creative writing based at the centre.
But its main use would be for dedicated business space for creative companies.
Earlier this year more than 200 writers, artists and supporters of the centre, including Dr Who writer Russell T Davies, singer Cerys Matthews and Poet Laureate Carol Ann Duffy, signed a letter expressing concerns about its future use.
But the council said without the joint venture with the university it was likely the centre would close.
Swansea's cabinet member for culture Graham Thomas said on Thursday: "These are difficult economic times when we have to focus the limited money we have on vital, front-line services.
"The joint venture we're working on for the running of the Dylan Thomas Centre alongside the University of Wales will secure the attraction's future and ensure Dylan's legacy continues to be celebrated and promoted in his home city.
"This is vitally important as we build towards celebrating Dylan's centenary in 2014."