Simon Hart MP queries Carmarthenshire private eye bill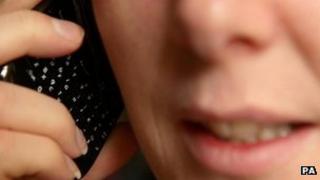 Carmarthenshire council spent almost £100,000 on private detectives in the last three years including one to check whether a 14-year-old boy had fathered a child.
It turned out it was a case of mistaken identity and the investigators apologised to his family.
Local MP Simon Hart has questioned the use of funds.
The council said it only used private detectives occasionally to trace people who owed it large sums of money.
Mr Hart, MP for Carmarthen West and South Pembrokeshire, was contacted by a woman from Devon after a private investigator visited her house to see if her teenage son had fathered a child in Carmarthenshire.
The MP said it transpired the detective firm had been given the incorrect spelling of the father's name.
Mr Hart said the woman was "extremely surprise and upset" although the detective apologised.
'Little bit extreme'
He submitted a Freedom of Information request to the council and discovered it had spent almost £100,000 in the last three years hiring detectives.
He said he has been assured the council is reviewing its use of their services as the sums "seemed a little bit extreme".
"I don't want to suggest that there's not any occasion where they should not be used, but I do want to be reasonably satisfied that this is not something that is used frivolously," he told BBC Wales.
"They should only be used where there is no other option and there's an assessment to ensure it's in the rate payers interest."
Reclaim money
Carmarthenshire assistant chief executive Chris Burns said they could not comment on individual cases.
But he confirmed they do employ external companies to trace people who owe money, including unpaid council tax.
"This is taxpayer's money and we take our responsibility to ensure that debts are paid very seriously as otherwise the burden falls unfairly on those remaining taxpayers - the vast majority of whom have paid," he said.
"We generally only use such companies where the amount of money reclaimed is greater than the cost of employing the agency and where we would, otherwise, be unlikely to be able to recover the unpaid amounts."