Attacked Llanelli councillor John Jenkins' crime worry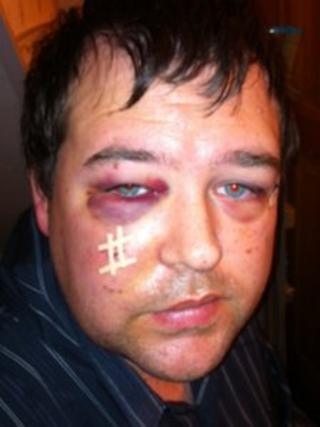 A former mayor who was punched in what he says was an unprovoked attack has voiced concern about public safety at night in the town.
John Jenkins, 30, was injured in a confrontation with youngsters outside his girlfriend's house in Llanelli, Carmarthenshire.
Dyfed-Powys Police say they are committed to tackling violent crime, which they say is falling in the town.
Officers said this was an isolated incident and they are investigating.
Mr Jenkins said he was outside at about 22:30 GMT last Friday with friends when two teenagers started kicking drainpipes and shouting at them.
He told them he was reporting them to the police and they left before returning a short time later with three older men.
"One did all the talking. He said 'who's been lipping?' " said Mr Jenkins.
He described how another who was standing outside his vision suddenly hit him.
"I can only remember one punch - my friends said there were two.
"It was unprovoked and random and I can see no sense or reason behind it.
"Some yobs wanted to punch someone and it was my unlucky night. I was in the wrong place at the wrong time."
He was treated in hospital for face bruising but he said the injuries looked worse than they were.
Mr Jenkins fears there is a rise in violent crime in Llanelli, although police say figures for the last month were below those for the same month in 2010.
A 48-year-old man suffered a fractured jaw in the rail station the night before, although British Transport Police said a suspect has since been arrested.
"There is an element of violence we are not used to. It's not the town I grew up in."
High-visibility patrols
Sgt Justin Evans said there had been 17 violent crimes in the Llanelli town area in the last month compared with 30 the previous month and 30 in the same period last year.
"But obviously, having been a victim of a violent crime will change someone's perception," he added.
"We understand this and there are various organisations in the town that can help victims of crime, including Victim Support.
"I'd like to reassure the public of Llanelli however, that Dyfed-Powys Police officers do all they can to tackle violent crime, including conducting high-visibility patrols in hotspot areas, engaging with local publicans and off licences to ensure that alcohol is not being sold to those underage.
"Tackling violent crime remains a policing priority in Carmarthenshire and is something we will not take lightly.
"In this case, it was an isolated incident in that it involved a member of the public who was not associated with the night-time culture.
He said, as in all instances of violent crime, every effort was being made to track down those responsible.
Mr Evans appealed for anyone with information to contact Llanelli police on 101.