Pembroke power station permit 'approved'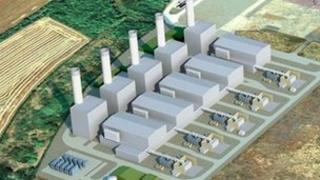 Environment campaigners say a giant gas fuelled power station in Pembrokeshire has been granted a permit.
Friends of the Earth Cymru (FoE) claim RWE npower's £1bn plant in Pembroke will waste heat and damage marine life.
An official announcement on the permit for the plant that will power up to 3m homes is expected on Thursday.
Environment Agency Wales previously said it would carry out a thorough assessment of the plans before making a decision.
Construction of the station has been ongoing for the last two years and is due for completion in 2012.
Planning permission was granted by the UK government in 2009.
FoE have claimed the plant does not use waste heat generated efficiently.
It said it could be used to power two nearby liquefied natural gas (LNG) terminals rather than entering the sea.
FoE's Welsh director Gareth Clubb said: "This plant is still going to have a devastating impact on one of Europe's most important wildlife sites, it's still going to be using second-rate technology and it will still be throwing away energy equivalent to 40 per cent of Wales' electricity demand."
The Environment Agency said in June it was likely to grant an environmental permit.
It said at the time it had carried out a thorough assessment and had proposed tough standards.