Farmer pulls Hermon slurry lagoon plan in Pembrokeshire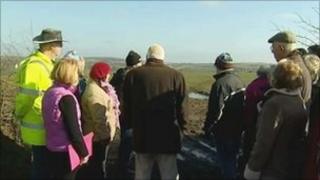 A farmer who wanted to build a slurry lagoon near a Pembrokeshire village has withdrawn his plans.
Some residents in Hermon raised concerns about smell and possible health implications.
Pembrokeshire council's planning committee has made a site visit to the farm but the authority said the application had now been withdrawn.
The lagoon at Brynfa Dairy Farm would have been able to hold up to 2.7m gallons of slurry.
Farmer Paul Vizza had previously said it was needed "to comply with new regulations on spreading slurry."
He had said opposition to the lagoon was "very limited in the village" and that all proper procedures had been followed.
Opponents had hoped the Welsh government would call the application in.