Chevron oil refinery blast: Service for victims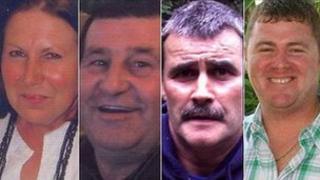 Four victims of an explosion at the Chevron oil refinery in Pembrokeshire are to be remembered with a service at nearby St Davids Cathedral.
Julie Schmitz, 54, of Pembroke, Dennis Riley, 52, Robert Broome, 48, and Andrew Jenkins, 33, all of Milford Haven, died in June.
Families, colleagues and emergency service representatives are to attend Monday night's service (19:00 GMT).
The Dean of St Davids, Jonathan Lean, will lead the choral evensong.
The Bishop of St Davids, the Right Reverend Wyn Evans, will preach at the service, which will also include civic leaders.
Investigations are continuing into the cause of the explosion, which happened when maintenance work was being carried out on a 730 cubic metre storage tank, damaging an adjacent vessel.
Chevron, which has flown in experts from the US, has said the investigation will be a lengthy process. The full hearing will not be held until an official inquiry has finished.
A fifth person was seriously injured in the blast.