Teifi Marsh Nature Reserve baby buffalo arrives early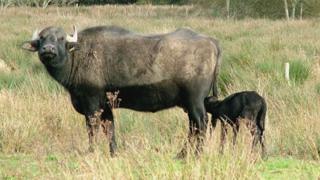 A baby buffalo has arrived early at a nature reserve where the animals are used to help manage the marsh.
The new arrival was spotted during a head count at Teifi Marsh Nature Reserve, Cardigan, Pembrokeshire.
Wildlife Trust of South and West Wales Officer Nathan Walton said the quality of the grass may be responsible.
He said: "It's come as quite a shock to us all as this is really early and now we are keeping an eye on the other two pregnant females."
The wildlife trust use water buffalo on the reserve for managing the land around the Welsh Wildlife Centre.
The trust says the animals are perfectly suited to the wet conditions and help by opening up new ponds and manage back vegetation.
In a statement, the trust said: "They are superbly adapted to the conditions and make for a magnificent sight on the reserve."
The surprise addition was first spotted by local assistant John Thomas who was monitoring the water buffalo.
He discovered there was one extra after one of the female buffalo had given birth over the previous evening.