E. coli shuts Pembrokeshire oyster and mussel beds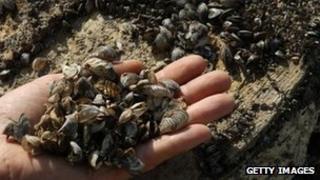 Two shellfish beds in Pembrokeshire have been temporarily closed after E. coli bacteria was found.
People are being warned not to take oysters from the area between the Cleddau Bridge and Picton Point or collect mussels from Lawrenny.
They should also avoid eating cockles, clams, razor fish or other shellfish from the beds until they reopen.
Cockle beds on the Swansea side of the Burry Inlet are also closed after samples tested positive for E. coli.
Pembrokeshire council said the elevated levels of E. coli followed a period of exceptionally heavy rain.
"This will have increased agricultural run-off and possibly added discharge from the functioning of storm water overflows," it added.
It said testing would be increased and the beds would reopen as soon as samples returned to normal.