Up to 49 jobs go as BPI polythene closes Swansea plant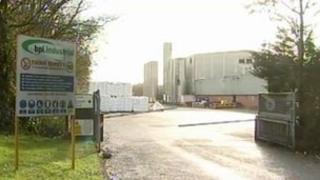 Workers at a polythene products plant in Swansea have been told it is to close with the loss of up to 49 jobs.
British Polythene Industries (BPI) plc said the site which makes packaging has been losing money for several years.
The company plans to transfer work from the plant on the city's enterprise park to its other sites.
Swansea East MP Sian James said she was "dismayed" at the job losses and had urged the company to reconsider.
BPI said there had been a decline in traditional markets for its polythene packaging products produced in Swansea for furniture and white goods.
It said in a letter to the MP that despite considerable recent investment it was unlikely trading conditions would improve in the foreseeable future.
'Dreadful thing'
"The transfer of work will result in the probable loss of up to 49 jobs on the site," it said.
"We will be consulting with trade union and employee representatives over a 30-day period and will endeavour to relocate as many employees as possible within our group.
"We will also assist them where appropriate in finding alternative employment outside BPI."
Staff were told on Tuesday morning.
Mrs James said: "The potential loss of 49 jobs is always a dreadful thing but is particularly hard for families at this time of year."
She said she has already contacted BPI to urge its directors to look at options to retain the site, including mothballing.
The MP said she would also be backing unions in their efforts to keep as many posts as possible.
"If the situation is as the company described then it is a clear indication of the parlous state of UK manufacturing," she added.