E.coli find closes Burry Inlet cockle beds off Gower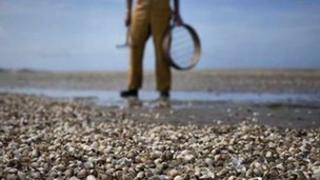 Cockle beds on the Swansea side of the Burry Inlet have been temporarily closed after shellfish samples tested positive for E.coli.
Notices have been erected along the coast warning people cockle picking has been banned.
Swansea city council said more testing would be carried out this week and it hoped to lift restrictions as soon as possible.
But is said its priority was the protection of public health.
Closure notices were issued following advice from the Food Standards Agency Wales and the Centre for Environment Fisheries and Aqua Science.
Lynda Anthony of Swansea council said: "Following the positive tests for E. coli, we've taken the appropriate action to close the beds until we are assured that shellfish in the area is safe for public consumption.
"We understand the concerns of gatherers and producers in the area and we would all like to see the beds re-open as soon as possible."