Carmarthen traders oppose Lammas Street parking meters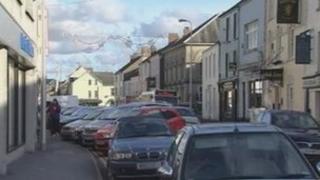 Businesses in Carmarthen are fighting plans to introduce parking meters on a town centre road.
They say plans to start charging people for parking on Lammas Street will drive trade away and have already been rejected twice before.
A group has been set up to oppose Carmarthenshire council's plans.
The council says motorists are abusing free parking by leaving their cars on the street all day and charging would free up parking spaces for shoppers.
The Lammas Street Trader's Group claim charges would have a "a catastrophic effect" on their businesses.
Short-term parking
Launderette owner Susan Anderson said: "I'm mainly concerned about the pop in customer we rely on in these small shops and businesses.
"If people have to pay just to pop in to get some groceries they are going to go over to the superstores."
At the moment cars are allowed to park for up to 30 minutes free of charge but then must move on.
Ms Anderson said she accepted many stayed longer than allowed but added: "If this goes ahead they will have to get someone monitoring tickets anyway.
"Why not just have wardens coming up here a bit more often without putting the meters here?"
Carmarthenshire council's executive board member Clive Scourfield said the authority would look at the traders' concerns.
But he added: "My experience coming down here regularly with my wife is I've never been able to find room to park.
"Many cars unfortunately decide to park here for the day."
He said the aim of the meters was to allow more cars to use the parking facilities and increase the number of people visiting the street.
"Hopefully it will be shown by charging to park here people will only spend half an hour which they would be allowed to."