Bronze Age hoard found in Manorbier, Pembrokeshire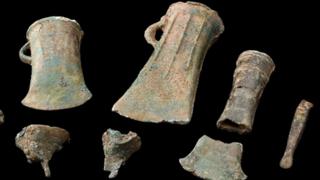 A collection of Bronze Age artefacts found by a man with a metal detector in a Pembrokeshire field may end up at the National Museum Wales.
The tools, a weapon, and other items which were found by Gavin Palmer near Manorbier have been declared treasure by the county's coroner.
The museum says the find helps shed light on how people lived in west Wales 3,000 years ago.
It is having the find independently valued with a view to buying the items.
The money would be split between Mr Palmer and the landowner.
Mr Palmer came across the 19 objects while metal detecting in the corner of a field in August last year.
They can be dated to the Late Bronze Age and were buried around 1000 to 800BC.
An archaeological survey of the area was subsequently carried out by the Dyfed Archaeological Trust.
Ritual ceremony
It suggested the artefacts had once been buried together as a hoard in an isolated pit.
No further Bronze Age objects were found and a geophysical survey did not reveal evidence of a settlement or monument in the immediate vicinity.
Adam Gwilt, curator of the museum's Bronze Age collections, said: "This varied group of bronze objects helps us to understand the kinds of tools, weapons and personal dress items that were in use and circulation in west Wales towards the end of the Bronze Age.
"The hoard may have been buried during a ritual ceremony held by a nearby community of farmers and metalworkers."
He said the museum planned to acquire the hoard following its valuation.