Facelift for A40 Victorian drink-drive warning pillar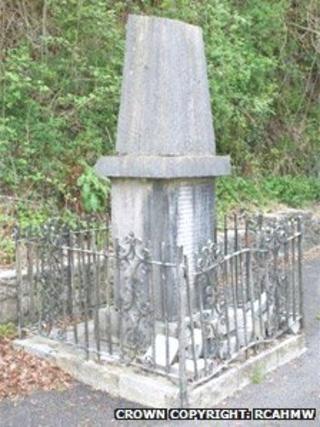 A 19th Century monument erected to warn Welsh stagecoach drivers of the danger of drink-driving is to get a facelift.
The Mail Coach Pillar built in 1841 marks the spot on what is now the A40 between Llandovery and Brecon where a mail coach plunged over a precipice.
According to the inscription, driver Edward Jenkins was drunk at the reins.
It aims to "caution mail coach drivers to keep from intoxication," and has seen better days, but will be repaired for the first time in 80 years.
The inscription says the coach was travelling between Gloucester and Carmarthen on 19 December, 1835 when it plunged 121ft (about 38m) off the precipice.
The inscription says Mr Jenkins's coach was travelling at "full gallop" on the wrong side of the road when it met a cart coming in the opposite direction.
Broke into several pieces
The coach, along with the driver, guard and five passengers were sent tumbling into the valley where the coach hit an ash tree and broke into several pieces.
Everyone on board survived but Mr Edwards appeared before a magistrate in Llandovery and was fined £5 and costs, although he denied being drunk.
The inspector of mail coaches, a Mr J Bull, suggested, designed and erected the monument which was paid for by public donations.
The inscription on it states that its aim is to "caution mail coach drivers to keep from intoxication."
Today, the top of the monument has broken off and the railings surrounded it have buckled - possibly after being hit by a large vehicle backing in to it.
The Royal Mail says it is working with the Brecon Beacons National Park Authority to restore the pillar and is contributing financially.
Llandovery's postmaster, Robin Ennion, said there had been calls to repair it for several years.
"It's a grade II listed monument but quite unusual. I'm absolutely delighted," he said.
Mr Ennion said thousands of people must travel past it without knowing its history and he hopes the restoration will preserve it for many years to come.
Romantic era
Llandovery town councillor Gill Wright told BBC Radio Wales the monument was of great historical interest.
"If it isn't unique, it's certainly very rare," she said.
"An outside memorial for the Royal Mail - very few of them were outside, if any. Most of them were inside buildings.
"It was definitely due a bit of a facelift but now it looks as though we're going to have a real go at it. The Royal Mail Heritage Trust is generously paying the cost," said the councillor.
"I think is probably more than a car that knocked it because it looks as though it followed a fault line in the stone. It's come off in a very straight line and for a time we thought maybe someone had cut it."
Mrs Wright said the monument reflected a romantic era of horse-drawn coaches but also the harsh reality of 19th Century travel.
"Very romantic - but it's these moments that you realise you'd much rather be driving your car, taking the bus or the train rather than clattering along in a cold coach."