Proper Welsh dairy at Whitland promises over 40 jobs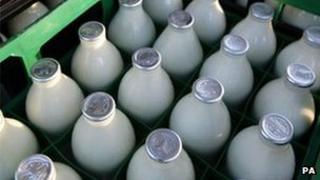 A new dairy on the site of the former Whitland Creamery in Carmarthenshire is being officially opened.
The £1.5m investment by dairy firm Proper Welsh will see up to 10 million litres of milk processed and bottled on site each year.
The company said it will create 14 jobs, rising to more than 40 in the coming years as its business develops.
It said it would also help to safeguard the work for dairy farmers in the surrounding area.
The Dairy Crest creamery at the Whitland site closed in 1994 with 150 job losses.
Local farms
Proper Welsh director Richard Arnold told BBC Radio Wales milk from west Wales farms currently goes to England for bottling before travelling back to Wales.
He said the company wanted to slash the journey in terms of mileage and time by getting the milk to Welsh stores within 24 hours of collection from Welsh dairy farms.
It already has orders to supply 50 Welsh stores and has a bottling operation in north Wales.
"Proper Welsh is all for increasing milk production in Wales, a country that is such a natural milk producer," he said.
"We just need the facilities to process it, rather than send it on a journey out of the country and back."
There are plans also to process cream at the dairy in the future.
Organic milk cooperative Calon Wen is a shareholder in the project.
Mr Arnold said: "Working closely with our partners at Calon Wen, the new Proper Welsh Dairy will process milk from local farms so that Welsh customers receive the freshest possible 100% Welsh product."