Swansea Drydocks Ltd ship recycling permit 'likely'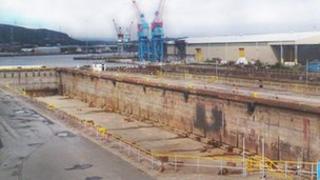 A company wanting to repair and recycle ships at Swansea dry docks is likely to be granted a permit, says Environment Agency Wales.
Swansea Drydocks Limited (SDL), which is investing £4m at the site, said it hopes ships will start arriving soon.
Concerns were raised about the type of materials to be recycled on site.
The agency said evidence showed the company had plans in place to make sure that it operated the docks without damaging the local environment.
It said it had consulted with a number of local organisations including the city council, fire service, health board and South Wales Sea Fisheries Committee.
A total of 52 people had also made comments on the application.
There is now a final phase of consultation where people can highlight any errors made in reaching the decision or issues which may not have been considered.
A draft environmental permit and decision document has been made available online.
The agency's south west area manager Steve Brown said: "We have given careful consideration to this application and we have drafted a permit which requires Swansea Drydocks to conform to the highest environmental standards and to operate in a way which will protect the local community and the environment.
"This further consultation stage gives everybody the chance to see what the permit may look like and how we have reached our draft decision.
"We will take into account any new and relevant information we receive before making our final decision."
The company said it was delighted with the provisional ruling and aimed to start accepting business at the docks as soon as the permit is granted.
'World class'
In a statement it said: "Phase one of SDL's £4m capital investment plan will soon be completed, including over £1m spent on infrastructure improvements that meet environmental best practice, and new machinery and equipment is on order.
"Ships for recycling will begin arriving as soon as authorisation has been obtained by the Environment Agency."
It said it was "committed to creating a world class ship repair and recycling facility" conforming to "European standards for quality, environment and health and safety."
Last year SDL successfully appealed at a public inquiry against a Swansea council decision refusing it a certificate for the Prince of Wales dry docks on grounds it needed planning permission.
Another company - Barry-based Harris Pye Group - had also wanted to use the site.