Swansea's Glynn Vivian Art gallery shuts for £6m refit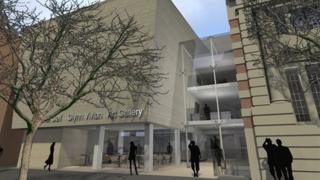 The Glynn Vivian art gallery in Swansea is closing its doors for two years as it undergoes a £6m facelift.
The work will include a complete refurbishment of the 1911 building, a new entrance and re-cladding of the 1974 gallery extension.
The project is being funded by the Welsh Government, the Arts Council of Wales and Swansea Council.
Once complete, it is hoped the gallery will attract about 90,000 visitors a year, double what it brings in now.
Sybil Crouch, former chair at the Arts Council of Wales, who is now head of cultural services at the Taliesin arts centre in Swansea, believes it can attract those numbers.
"The Glynn Vivian is a major civic facility and the only purpose-built art gallery in Wales that is still open," she said.
"I don't think audiences just disappear when something isn't there.
"It will be missed by the people of Swansea but they will welcome it back in its renewed form.
"Swansea is the cultural capital of Wales. I don't think Swansea has enough [arts centres].
"There's really good support across the arts and some things are going to be more popular than others."
The gallery closes on Sunday, and preparatory work will start in November, with the main building work beginning in the new year.
Continuing programme
Other features of the upgrade will include a dedicated reading and resource centre devoted to visitor research, wi-fi access and improved facilities for working with schools and colleges.
A new storage and conservation area to enable the future development of the collections will also be provided together with enhanced workshops.
During the works, staff at the Glynn Vivian are planning a programme of activities and events, including educational workshops in different venues across the city.
They will include the YMCA on St Helen's Road, central library in the civic centre and Swansea Metropolitan University's school of art.
"This major redevelopment scheme will lead to one of the best facilities of its kind in Wales but we're very mindful that services should continue to run throughout the temporary closure," said Graham Thomas, Swansea council's cabinet member for culture, recreation and tourism.
An Arts Council of Wales spokesperson added: "The Glynn Vivian is a key venue in our national network of galleries and this project reflects its ambition to deliver the best in the visual arts in Wales.
"This elegant and ambitious scheme will offer something for everyone and will show the museum's collections in a modern, stimulating environment."