Fforestfach tyre fire: bid to recover £1.5m costs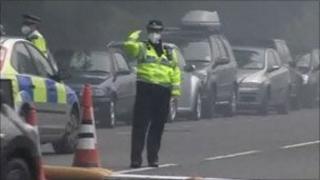 The long term future of tonnes of waste from a major tyre fire which burned for weeks is to be discussed.
A Swansea council report says 5,000 tonnes of flock, a product created by shredding and recycling tyres, caused chaos when it burned at Fforestfach in June.
Officials hope the Welsh government will reimburse the £1.5m costs for dealing with the fire.
The waste is being stored temporarily at Tata steel works in Port Talbot.
The report to Thursday's cabinet says experts are now assessing how best to deal the waste safely.
And it goes on to say that a new multi agency group has been set up to gather intelligence to prevent a repeat incident by ensuring a "strong regime of monitoring and enforcement".
'Deposited safely'
The fire caused traffic chaos and prevented local businesses from trading effectively as well as being extremely complicated to deal with, councillors will be told.
The council is submitting a claim for emergency financial assistance from the Welsh government on behalf of all those involved in the operation.
Other groups included South Wales Police, Environment Agency Wales, Public Health Wales and Abertawe Bro Morgannwg University Health Board.
The council says it is due to submit a retrospective planning application to Neath Port Talbot council to permit the temporary storage at the Tata site for up to nine months.
This will allow time for an assessment to decide where the material can be finally "deposited safely".