Ancient sites and monuments damaged in Pembrokeshire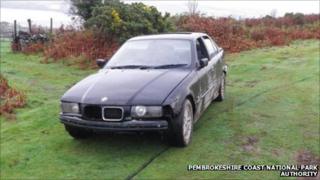 Ancient sites and monuments in north Pembrokeshire have been blighted with graffiti, broken glass and an abandoned car, it has been claimed.
The Pembrokeshire Coast National Park Authority says a car contaminated a Site of Special Scientific Interest below the Carn Ffoi Iron Age Fort.
It also says a megalithic stone at Bedd Arthur, a Scheduled Ancient Monument, has had names scratched into it.
Historic monuments agency Cadw said damage was often "irreversible".
The park authority's criticisms followed news that another ancient stone, Bedd Morris near Newport, was recently toppled after being hit by a vehicle.
But park rangers also claim there has been an increase in the dumping of hazardous waste, including asbestos, and off-roading remains a problem.
Park authority spokesman, Phil Bennett, said: "The distinctive arrangement of prehistoric stones at Bedd Arthur stands within the Preseli Hills, which is also a Special Area of Conservation and it's very unfortunate that they have been defaced."
"The stone at Bedd Arthur had names scratched into it, whilst the 6ft plus Bedd Morris standing stone was hit by a vehicle and knocked over."
Ranger Richard Vaughan added: "A car was driven up an old trackway below the Iron Age fort of Carn Ffoi on Carn Ingli mountain and abandoned.
"The sump broke and a 200m black slick of oil contaminated a Site of Special Scientific Interest.
"The black BMW was a left on a bridleway, and is popular access route for locals and visitors alike.
"I've also had to clean up a popular parking site on Dinas mountain covered in empty bottles and smashed glass on the surrounding rocky area."
A Cadw spokesperson said: "Scheduled ancient monuments are legally protected, and damaging them is a criminal activity.
"These prehistoric sites have been here for thousands of years.
"Cadw will be working with the National Park Authority and site owners to make good the damage as much as possible, although damage to historic sites is in most cases, irreversible."