Bronze age landmark knocked over in Pembrokeshire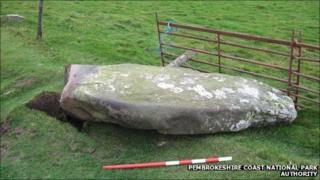 It had been a landmark for 4,000 years but a standing stone in Pembrokeshire has been knocked over - by a vehicle reversing.
The landmark on Dinas Mountain has been a well known feature on the roadside near Newport.
It is thought the vehicle accidentally knocked over the Bedd Morris stone, crushing a fence.
Despite weighing over two tonnes it has been temporarily moved due to fears it may be stolen.
Phil Bennett, culture and heritage manager at the Pembrokeshire Coast National Park Authority, said the stone dated back to the Bronze Age.
The stone, which normally stands between Cwm Gwaun and Newport, was named after a legendary bandit.
While it is out of the ground there will be a small archaeological dig to establish how long it had been at the site.
'Secret location'
"It's 4,000 years old. It's a parish boundary marker and people from Newport have been brought up with that monument which is an important landmark in the parish," said Mr Bennett.
"We want to get it back up as soon as possible."
The accident happened last weekend and the stone has since been moved for safe keeping.
"It's always been a little bit wobbly. Now it can be put back to make it more secure and we will keep it pointing in the same direction," added Mr Bennett.
"We've moved it for now to a secret location because we felt there was a very real chance it could have been stolen.
"The name Morris comes from a legend of a bandit who lived nearby and used to rob people."