Why Isy Suttie - Peep Show's Dobby - is learning Welsh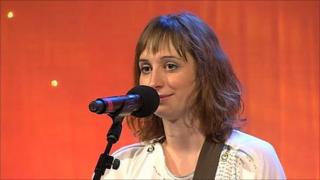 If you're at the Machynlleth Comedy Festival next year don't be surprised to find yourself watching a familiar English face doing a stand-up spot in Welsh.
Isy Suttie, 33, best known for her role as IT geek Dobby in Channel 4's sitcom Peep Show, hails from Matlock, Derbyshire.
But since beginning a relationship with Welsh comedian Elis James almost two years ago, she has spent more and more time in west and north Wales.
Now, after deciding to take the plunge and learn the language, she has introduced a new dimension to her stage routine.
The versatile actress, writer and musician introduced a three-minute song in Welsh into her act at the Edinburgh Fringe over the summer, which she will repeat the song at an upcoming gig at London's Bloomsbury Theatre.
"The flyer has a line on it which reads: 'Contains three minutes of Welsh'," said Suttie, who was seen last year alongside Alan Davies in the BBC's hotel kitchen-based comedy series Whites.
"I'm trying to boost the audience by getting more Welsh people in," she joked.
Suttie, who has just finished filming on a new series of the Scottish-based 1980s comedy hit Rab C Nesbitt, explained how she came to learn Welsh.
Beginners class
"My boyfriend's from Carmarthen and I spend a lot of time there and in north Wales," she said.
"I got sick of listening to everyone speaking Welsh in the house and not being able to join in, so I decided to start learning it myself."
She duly enrolled in a beginners class in London.
"Most of the people on my course are over 50, people like me who have spare time in the middle of the day," said Suttie.
"One or two of them are people who were born in Wales, and have Welsh accents. Others have Welsh parents and are interested in their family heritage."
Small print
Having started out with the everyday basics, such as shwmae (how are you?) and nos da (goodnight), she soon realised there was more to speaking Welsh than she bargained for - including the mutations when certain words change their spelling when next to others.
"It's taking quite a long time," she said.
"It's the mutations I find the hardest. They don't tell you about that before you start - or maybe it's in the small print.
"Elis and I speak Welsh for about 10 minutes every day and I'm lucky that we can do that as quite a lot of the people on my course don't have that."
She admits she is "nowhere near fluent" but tries to brush up by watching the BBC's Welsh language soap Pobol y Cwm - shown on Welsh language channel S4C - whenever she can.
"Elis thinks I'm doing really well," said Suttie. "It's hard for him but he's so supportive."
Welsh-speaking driving instructor
It was while she was at this year's comedy festival in Machynlleth with her boyfriend and fellow Welsh comedian Tudur Owen, that the plan to do an entire stand-up act in Welsh was - accidentally, she explained - hatched.
"I'd just had a pint of cider and had had nothing to eat beforehand and I said to Tudur that next year I would do five minutes in Welsh," said Suttie.
"I'd like to do it. It would certainly be a challenge."
In the meantime, however, she says she has an important decision to make on continuing her Welsh lessons.
"It's now a question of whether I do the next module in Welsh or learn to drive, as I am 33 and it's probably about time," said Suttie.
"I'd love to find a Welsh-speaking driving instructor in London, though I'd probably need to learn some key words like 'left' and 'right'."