River Neath 'orange' pollution inquiries continue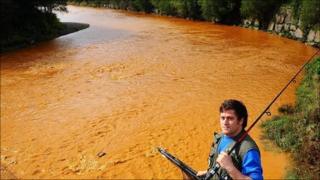 Officials are still investigating the source of pollution which turned part of the River Neath orange and its effect on the environment.
Members of the public alerted Environment Agency Wales (EAW) after discolouration was spotted on Friday along a 10km (6.2 mile) area.
The agency said the main stretch of the river and the Garwed Brook were running clear, but there were still problems downstream towards Aberdulais.
A number of dead fish have been found.
Gavin Bown, spokesman for Environment Agency Wales, said: "We are in the process of assessing the impact of the incident and whether it is feasible to rescue any fish in distress.
"Our priority is to minimise the impact of the pollution on the local environment and investigate how and why this has happened."
One theory is that iron ore pollution leaked from an old mine to run into the river.
Riverside resident Cliff Davies, of nearby Abergarwed, near Neath, said: "There is severe pollution, it is bright orange.
"Iron ore turns water this sort of orange colour like rust.
"But it looks just like somebody has tipped tankers of orange juice into the river."
Local fisherman Lee Jefford, 29, said: "It was nice and clear water and then it turned brown.
"I could see fish gasping for air. It was so sudden. I have seen around 40 to 50 dead fish, but there are probably a lot more smaller fish that have died.
"I don't know how they are going to clean it up."
It is expected the discolouration could take some days to clear.
Officers have considered lime dosing the river, but pH tests indicated that this was not necessary.