Tata to halt production at Trostre works for week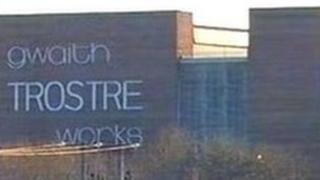 Steelmaker Tata is to halt production for a week at its Trostre tinplate works in Llanelli as it expresses serious concerns about the economy, BBC Wales has learned.
The company said the economic recovery looked "very fragile".
More than 700 people are employed at Trostre but Tata said the break in production in October will not lead to any job losses.
Tata is the biggest private employer in Wales with about 7,500 staff.
Robert Edwards from the steelworkers' union Community said the move was "a big concern".
Tata said staff will work in areas like maintenance and training for the week production is stopped, but there will be no overtime.
It will mean 9,000 tonnes of tinned packaging will not be manufactured.
The company said the stocks of its customers were full and it had to realign capacity with demand.
A Tata spokesman said: "This is quite significant because Trostre has been going flat out for the past 18 months.
Bottom line
The spokesman could not say whether any temporary halt in production would be introduced in the future at Tata's major steel plants in Wales - at Port Talbot or Llanwern, Newport.
In terms of the general outlook for the steel industry, the spokesman for Tata said: "We are very concerned about the bottom line. The indicators are very worrying indeed.
"We have been weathering a prolonged storm."
Trostre makes tinned products for a range of companies. One of its biggest customers is Heinz.
Management talks
Mr Edwards told BBC Radio Wales he hoped the move would be a one-off.
"Obviously this is a big concern for our members," he said.
"It is a question for local trade unions now to sit around the table with management and as I understand it they are talks over the next few days."
Colin Richardson, Europe editor of Steel Business Briefing, said other tinplate producers in Europe had already cut production.
"It's not just a comment on the state of the UK economy. There is a weakness in tinplate demand across Europe," he said.
"Tinplate did very well during the recession when demand for canned goods went up and at the moment that demand has waned slightly.
"Other producers have been on short time working from July to September.
"It maybe one week could be enough bit it could be it is not enough and they will need to implement some other measures."
BBC Wales business correspondent Nick Servini said: "This is the first time a Tata spokesman in Wales has spoken openly about the concerns the company has about the general recovery.
"The steel industry is commonly known as one of the best barometers out there for the economy.
"Two and a half years ago we were talking about blast furnaces being mothballed and that would be the big concern, if there were anything like that."