Port Talbot drink-driver reversed into McDonald's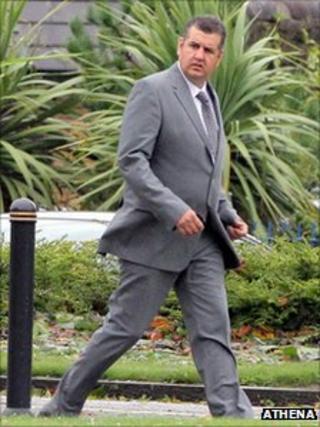 A drink-driver has been jailed for reversing his car into a McDonald's - and also banned from all its burger bars in the UK.
Peter Andrews, 41, of Port Talbot, was refused service late at night at a drive-through restaurant, Swansea Crown Court heard.
He told staff: "I'm getting served whether you like it or not."
Andrews was jailed for eight months after admitting dangerous driving and drink-driving in his Ford Fiesta.
The court was told that Andrews, a building worker, had drunk up to eight pints of lager at a close friend's funeral on the night of the incident.
He went home then walked to his local McDonald's restaurant.
After being told he could not be served at the drive-thru serving hatch because he was not in a vehicle, he left and got his Ford Fiesta, the court was told.
Prosecutor John Lloyd said: "He returned with the car, parked it on the kerb and went back to the serving hatch where he made the threats.
"When they refused to serve him again he drove the car repeatedly into the entrance to the building."
The court heard Andrews told staff: "You'd better move yourself, I am coming in.
"Even if I've got to ram these doors down, I am coming in."
'Carnage'
Andrews then repeatedly reversed the vehicle into the restaurant, which was forced to close for four days for repairs.
Prosecutor John Lloyd said: "Andrews crashed into the customer area until it was completely destroyed.
"The manager described the scene as carnage and he was frightened for the safety of everyone in the restaurant."
Police were called and Andrews was found in his damaged car a short distance away.
A breath test recorded 59 microgrammes of alcohol in 100 millilitres of breath, the court was told. The legal limit is 35.
Mr Lloyd said: "When interviewed by police Andrews described his actions as pathetic."
Judge Peter Hayward told him: "This was entirely mindless damage - having consumed alcohol is no excuse.
"You refused to accept the staff's request to go into the restaurant and be served along with other members of the public.
"You behaved in atrocious manner, your conduct was disgraceful and clearly dangerous."