Brunel statue in Neyland could be replaced after theft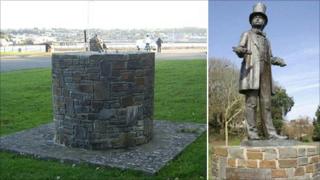 Councillors in a west Wales town will discuss plans to replace a statue of Victorian engineer Isambard Kingdom Brunel which was stolen last year.
The 8ft (2.4m) bronze sculpture went missing from its plinth in Neyland, Pembrokeshire, in August 2010.
Two men were arrested over the incident but released without charge.
The sculpture was unveiled by the Prince of Wales in July 1999 to honour the man who brought the Great Western Railway to Pembrokeshire.
The Brunel statue was the final work of sculptor Robert Thomas, who died just weeks before the piece was unveiled.
Residents of Neyland spent seven years raising £30,000 towards it.
Town clerk Natasha Caplen confirmed that replacement of the statue was on the agenda for a town council meeting on Monday evening.
Metal theft
"At present we are in the early stages of working with the Thomas Estate looking at the various possibilities for the return of the statue," she said.
"The town council will discuss the information provided by the Thomas family and the next stages for the statue."
Ms Caplen added that the information being discussed would be treated as private and confidential at the request of the Thomas family, although it was understood extra security measures were being considered.
The Brunel statue is one of a string of items to have gone missing as rising commodity prices make metal objects in public places attractive to thieves.
Figures obtained by BBC Wales suggested that the cost of metal theft to Welsh councils doubled to almost £680,000 in 2010/11.
Litter bins, manhole covers, copper cables and memorial plaques have been targeted, as well as sculptures.