Skokholm wildlife haven's £250,000 lighthouse appeal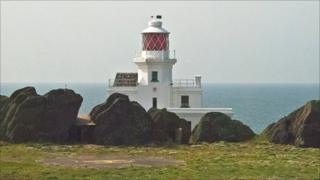 A wildlife trust has launched a £250,000 appeal to buy a lighthouse and cliff face on one of the UK's most spectacular havens for sea birds.
The Wildlife Trust of South and West Wales already owns most of Skokholm island, three miles off Pembrokeshire.
Trinity House has put the lighthouse and surrounding land up for sale.
The wildlife trust wants to turn the lighthouse into visitor accommodation for people to see up close the colonies of Manx shearwater and storm petrels.
The lighthouse, built in 1916, would continue operating despite the sell-off.
Skokholm was bought by the trust in 2006 after it raised £650,000. The mile-long island was the first bird observatory in Wales.
A survey found it had 2,870 Manx shearwater burrows. Skokholm, with its nearby sister island, Skomer, is thought to the breeding home of roughly 50% of the world population of the species.
Trust spokeswoman Lyndsey Maiden said the appeal had until the end of the year to raise the money to head off the possibility of the lighthouse being put on to the open market.
New visitor accommodation in the lighthouse would add to the trust's current facilities at the island farmhouse complex, she said.
She added that purchasing the land around the lighthouse would protect the densest population of storm petrels on the two islands, as well as chough and rare lichens.
She said: "The cliff face is really important because it's a storm petrel breeding area. They are true pelagic birds, only coming back to Skokholm to breed."
Ms Maiden said the trust also hoped to reinstate the island's status as a bird observatory, which was lost in the 1970s.
She said that would lead to more extensive bird counts and the netting of birds for their tagging.
"Birds are a good indicator species as to what is going on under the sea as well. We can monitor birds and see whether the fish stocks are going down."