Rugby tournament for Chevron oil refinery blast victims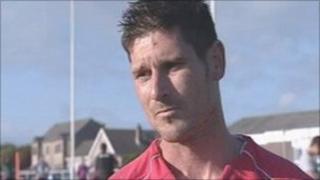 Rugby teams from Pembrokeshire joined a charity event to raise £10,000 for victims of the Chevron oil refinery explosion.
The 15-a-side tournament at Milford Haven rugby club on Sunday afternoon included Lee Riley, whose father Dennis was among those who died.
Three other people were killed in June, and a fifth was seriously injured.
Two Milford teams played, along with Haverfordwest, Pembroke, and Llangwm, although Pembroke Dock had to drop out.
Milford coach Alan McClelland said the idea came from the club's senior players.
The son of another victim, Robert Broome, 48, from Milford, is also a member of the club's under-15s.
The other people who died were Andrew Jenkins, 33, also from Milford, and Julie Schmitz, 54, from Pembroke.
Investigations are continuing into the cause of the explosion, which happened when maintenance work was being carried out on a 730 cubic metre storage tank, damaging an adjacent vessel.
Lee Riley, 28, who plays full-back for Milford, spoke publicly earlier this month about the tragedy, and described how his father had been working overtime on the evening he died.
He worked alongside his father until weeks before the explosion, and said he would remember him as a devoted family man.
Lee Riley played for Milford A, who won the tournament, beating Pembroke 19-0 in the final game.