Bluebird bid for UK electric land speed record delayed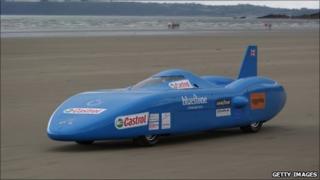 The grandson of Sir Malcolm Campbell will try to smash the UK land speed record for an electric car on Sunday after technical problems on Saturday.
Don Wales, 50, will race his machine, named Bluebird, at Pendine Sands in Carmarthenshire, where he hopes to break his own 137mph record.
Mr Wales, from Addlestone, Surrey, is from an illustrious line of speedsters.
His grandfather Sir Malcolm and uncle Donald Campbell have held world speed records on both land and water.
Mr Wales is optimistic that he can exceed 150mph.
He said: "I think we've got to be confident. The guys behind us have worked so hard for the last six weeks or so - the mechanical team and the electrical team from Bristol University - so I've got to put my faith in them because they've done all the hard work up to now.
"Then it's up to me to drive the car and get it above 150."
500mph target
Sir Malcolm Campbell himself set a record in a combustion engine on the same beach, Pendine Sands, with a speed of 146mph in 1924.
His son and Mr Wales' uncle, Donald Campbell, took the water speed record to 152 mph in 1950, but died in a further attempt in 1967.
Earlier this week, Mr Wales said: "Ten years ago we set a UK record of 137mph at Pendine Sands and we are going back there this weekend to hopefully increase that speed to somewhere around 150mph or 160mph.
"This really is the start of a two or three-year campaign with a target of 500mph."
The Bluebird team, which includes mechanics from Nelson in Lancashire, plans to test the super-fast car's technology this weekend and then to build a new electric vehicle for a further world record attempt.
They are hoping to eventually hit 500mph and pass the 307mph record set by the American Buckeye Bullet 2.5 team last year.
Mr Wales's son Joe Wales, 19, will also drive Bluebird to attempt the quarter-mile and 500-metre UK speed records.
He said he was looking forward to the weekend and maybe beating his father.
"We'll see how it goes. I might try and go for the outright speed and I'll have a crack at it," he said.
"I am very proud to be representing my family and their heritage. Hopefully, this is the start of a world-record car."
Test driver and technical director Tim Allen took the Bluebird on to the runway at BAE Systems' airfield at Filton, Bristol, to carry out final checks ahead of this weekend.
"It has all been about testing the machine for the first time - it has been a shake-down test," said Mr Wales.
"The team has been working really hard and the guys at Bristol University and in Wales have worked a lot of hours to get this car working.
"Tim, our test driver and technical director, has been in the car and he's had a good spin so far."