Port Talbot ragworm firm Dragon Feeds in liquidation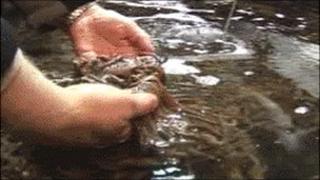 A controversial ragworm farm which has received more than £1m of public money has gone into liquidation.
Dragon Feeds, which has its headquarters in Port Talbot, was set up to develop a sustainable alternative to fishmeal for the commercial sector.
Original plans were to build 270 ponds on Laugharne marshes in Carmarthenshire creating 70 jobs, but it is thought less than 10 people were employed.
Liquidators HR Harris and Partners confirmed the firm was in liquidation.
The Welsh Government said the Dragon Feeds received a £1.03m grant from the Welsh European Funding Office, and it would try and recover the money.
Ragworm is used to make fish food for the commercial sector and is a source of protein.
Carmarthen West and South Pembrokeshire MP Simon Hart said: "This is obviously a very sad day for all those who have lost jobs at the Dragon Feeds ragworm farm, but I have been investigating the funding of this project for more than a year and I think some urgent answers are now needed.
Objective One funding
"We know that it was awarded EU Objective One funds of £1.03m for what was originally intended to be a ragworm farm with 270 ponds employing 70 people.
"However only 74 tanks, less than a quarter of the proposed project was ever built, and I understand that there was only ever a maximum of 10 people employed there."
A Welsh Government spokesperson said: "The Welsh European Funding Office provided Dragon Feeds Ltd with £1.03m FIFG (Financial Instrument for Fisheries Guidance).
"As is usual in cases when companies cease trading, where we are legally entitled, we will be submitting a claim to the liquidator for recovery of our grant in full.
"Dragon Feeds also had a SMART Cymru award of £191,960 for a R and D (research and development) project which was completed and formally closed and there will be no claw back."
Mark Evans for the liquidators, who are based in Swansea, said Dragon Feeds went into liquidation for financial reasons and the company was insolvent.
But he said some land at Pendine was still owned by the firm.
Mr Evans added that as part of his work he would be investigating the conduct of company directors, although he said at this stage there was no suggestion of impropriety.
Tony Smith, managing director of Dragon Feeds, said he could not comment for "legal reasons".