Fforestfach tyre fire: Swansea arrest over waste dump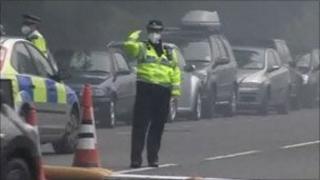 A 42-year-old Swansea man has been arrested over the alleged illegal dumping of large-scale tyre waste at a factory destroyed in a major blaze.
The fire at the former Mettoys site on the Fforestfach industrial estate in Swansea took 23 days to put out, with the bill expected to reach millions.
Environment Agency Wales said about 5,000 tonnes of waste from a tyre-shredding process caught fire.
The fire began on 16 June and the site has now been cleared and made safe.
The Environment Agency said police and Mid and West Wales Fire Service were still investigating the cause of the blaze which started on 16 June.
Thick black smoke could be seen for more than 20 miles and people living nearby were advised to close all doors and windows.
The blaze caused traffic chaos in that quarter of Swansea on the evening it broke out as cars were prevented from driving through the smoke, leaving children stranded because parents could not get to schools to take them home.
Temporary dams
Specialist equipment was used to demolish the factory and remove the burning material in sections before immersing it in large water-filled tanks and temporary dams created on-site.
Swansea council says all debris and remaining tyre flock have now been removed.
The cost of disposing of the waste alone has been put at about £800,000.
The Environment Agency and South Wales Police said they could not comment further because the inquiry was ongoing.