Plea for 'swift action' on hepatitis B at Morriston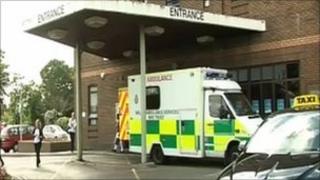 Health chiefs at a hospital where a woman who contracted hepatitis B died have been urged to act quickly to restore public confidence.
Managers at Morriston Hospital in Swansea launched an inquiry after 150 heart surgery patients were potentially exposed.
The Board of Community Health Councils in Wales says the situation must be resolved swiftly.
The hospital said it was an "isolated incident".
The Abertawe Bro Morgannwg (ABM) University Health Board and Public Health Wales are carrying out an investigation and have commissioned an external review.
They say there was a "low risk" involving patients who had surgery at the cardiothoracic unit between 11 March and 17 April.
Hepatitis B is a viral infection of the liver spread through blood and body fluids.
The family of the patient who died have also called for swift action to identify others who could be affected and have lodged a complaint.
Carol Davies, director of the Board of Community Health Councils in Wales said: "It's vital that we identify how this happened, not just for those who have been exposed to the likely infection but also to reassure patients who are waiting for non-urgent surgery.
"If the investigations are not concluded expeditiously then there will be a backlog and we don't want that to happen.
"We're working closely with the health board to ensure we find out as quickly as possible so patients are not deterred from having surgery.
"This is a unique, very tragic occurrence and we want to ensure the general public and patients that this is a single incident and the risks of others are extremely low."
Cardiac theatres
Hamish Laing, director of acute care at the hospital, said the hospital had looked at all its procedures and practices to ensure they were up to standard.
"We have made a number of changes as an extra precaution in our critical care unit and cardiac theatres," he said.
"The truth is we don't know how the transmission occurred, but we know that we have put in place changes and reinforced existing practices to measure that our surgery's safe."
He added that the hospital was waiting for one piece of equipment to return from being deep cleaned.
"As soon as we've got that, we will be confident that all our procedures are safe."